Timeless Productions
Recording Studio
Your Music Your Way
Liberate Your Passion
Quiet, Remote & Peaceful… Located in a beautiful Sierra Foothill setting on 10 acres. Bed & Breakfast sites close by and soon to have on site Bed and Breakfast facilities. Tipi camp accommodations available during late spring through fall months. Additional camp sites also available.
Studio located on 10 acres of forest land in the foothills of the Sierra Nevada Mountains nearby the American River.
Fishing, Swimming, Whitewater Rafting, Hiking, Skiing, Snow Boarding available nearby.
A TIMELESS MUSICAL RETREAT
We cater to those looking for a creative and supportive environment in a peaceful wooded setting.

David has more than 30 years of experience as a producer and recording engineer, musician and recording artist

We are also keenly interested in producing motivational, educational, self-empowerment, and self-help spoken word projects and can provide musical scoring as well.

Gourmet meals, including vegetarian cuisine, can be provided.

Massage therapy and lessons in Tai Chi Chih movements are available.

Recreational activities can also be arranged such as whitewater rafting in the summer and snow skiing or boarding in the winter.
STUDIO VIEWS
DIGITAL OR ANALOG MULTI-TRACK RECORDING AND DIGITAL STEREO MASTERING
ROOMS AVAILABLE
15×20 Control & Recording Room
10×15 Recording Room
15×30 recording / multi-purpose room
Keyboards, samplers, drum and synth modules, Kat Drum controller and Computer-Midi set up for sequencing and Hard Disk recording and editing.
STUDIO RATES & EQUIPMENT
$35 per hour – Discount Block Rates Available
Equipment Available –
Presonus Studio 192 & Digimax D88 with 16 analog inputs.  Studio One 3 software for limitless tracks and effects on playback.
ProTools 24/MIXPlus system with TDM 6.4.1 software on a G4 Power Mac with a Digidesign 888 digital interface.
Trident Series 65 24x16x2 console for analog input & output when desired.
Hardware multi-tracks include ADAT XT20, ADAT LX20 and ADAT digital multi-tracks with BRC controller, Tascam 80-8 analog 8-track tape recorder, and Tascam 3340 4-track tape recorder.
Stereo recorders include two Panasonic SV 3700 Studio DAT recorders, Tascam DA-302 Dual DAT recorder,
For monitoring… Hafler Pro 500 power amp with JBL 4311 and Tannoy 6.5 monitor speakers.
Effects rack includes: Digitech Vocalizer, Lexicon LXP-1 reverb & LXP-5 multi effects unit,  Yamaha SPX-90, 2 CAD stereo compressors, 1 Orban Co-Operator compressor and  limiter, Orban De-esser, Orban parametric equalizer, Gatex 4 channel noise gate,  BBE 402 audio enhancement.
Condensor Microphones:  Neuman U47, AKG 414 & two C1000S,  Sennheiser MKH40 & MKH30,  Audio Tehnica AT 3035 & two AT4401 (matched pair), Rhode NT-1A.
Dynamic Mics – Audio Technica 440D & 450D, two AKG D880.
Vintage Sound Modules and Midi equipment: includes a JL Cooper MSB+ 8×8 midi mixer connecting keyboard instruments and modules including a Yamaha DX7IIFD with "E", Yamaha TX7, Yamaha TX81Z, Yamaha WX7 midi wind controller, Yamaha TXW16 Sampler, Casio FZ-1 sampler, Casio CZ 101, Korg M3R, EMU Proteus 1/xr, Proteus 2/xr,  Oberheim Matrix 1000, Roland D-550, Sequential Circuits Prophet 5 (pre-midi), DrumKat dk10 control pad and Alesis DM5 drum module.
STEREO MASTERING SERVICES & GRAPHIC DESIGN AVAILABLE IN-HOUSE
LICENSE-FREE MUSIC FOR HIRE – SOUNDTRACKS – MUSIC COMPOSITION
$60 per hour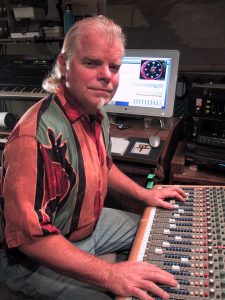 Soundtracks for corporate, documentary, educational or commercial video productions, scoring for spoken word self-help products.
Equipment Available –  All the above with the addition of David's skill & expertise as a music performer, producer and arranger using a unique collection of folk and ethnic instruments from around the world and a collection of 'vintage' synthesizers and samplers paired with endless virtual instruments.
SPECIAL BLOCK, RETREAT, AND COMPLETE  PACKAGE RATES AVAILABLE
phone: 530-333-1335…. ask for David Blonski
We offer full service production assistance including recording, mastering & graphic design for your printed materials.

Retail ready CD-R duplication available in house for small runs!… or we can refer you to large scale duplicating facilities. 
Timeless Store

Items in Your Cart

Your cart is empty

QUANTITY DISCOUNT

When you order more than one item we are offering an additional 15% off of our already discounted "Direct From Artist Pricing". Your discount will show up automatically in the cart above (up to 40% off). FREE SHIPPING on all orders within the USA! Digital Downloads are recommended for anyone outside the USA.

About Your Order

For US orders, CD's are typically sent out within 48 hours by First Class Mail or Media Mail on larger orders unless David is on tour which can delay shipping a few days up to a couple weeks. We recommend Digital Downloads for those of you outside the USA. If you need international shipping please contact us.

If you order a 'Full Album Digital Download' you will typically recieve an email within 15 minutes with the encrypted link(s) for your download(s) that will include high quality MP3s of each song and jpegs of all the artwork that comes with the original CD.

Contact Us

Timeless Productions
5050 Traverse Creek Rd,
Garden Valley, Ca 95633
phone: 530-333-1335 4info@timelessproductions.com

ORDER LINE: 1-800-729-1325