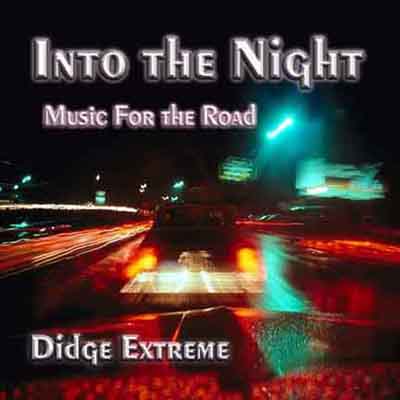 INTO THE NIGHT, Music for the Road – A vibrant blend of contemporary dance grooves mixed with the evocative voices of the didgeridoo along with exotic flutes and drums from around the world. A fantastic companion for road trips with pulsating and energetic tracks that you will find vitalizing and refreshing.
Listen to short audio samples of "Into the Night" below….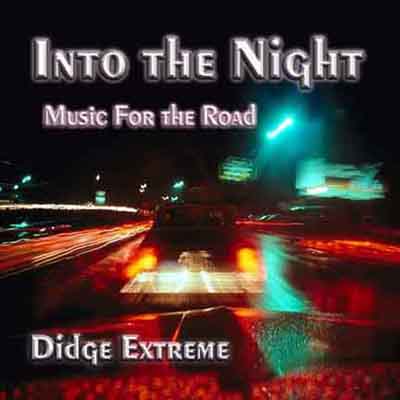 Into the Nigth / Music for the Road - CD
Artist Direct Discount with Free Shipping within USA Included!
International shipping available with additional fee. Contact us before ordering.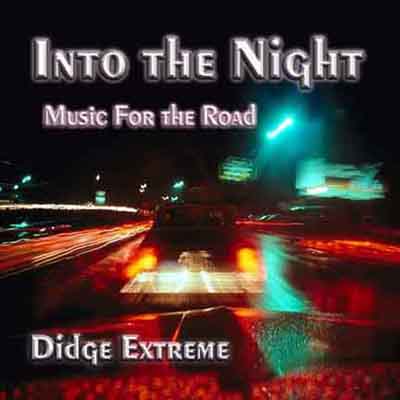 Into the Nigth / Music for the Road - full digital download
Includes high quality MP3s of each song along with all the cover art and liner notes included in the CD package. Your download link will be delivered by email.
INTO THE NIGHT, Music for the Road
Twighlight Begins – full length track
Hard Drive
Cruise Control
Overdrive
Desert Crossroads
Caravan
Alien Highway
The Encounter
Area 51
Midnight Run
Must be Dreaming
City That Never Sleeps
Into the Night I Roam
INTO THE NIGHT, MUSIC FOR THE ROAD
All the music for "Into the Night" was produced by David Blonski at Timeless Productions Studio using a Pro Tools Mix TDM system with a Trident Series 65 analog console for tracking and monitoring. Numerous sample and loop libraries were used inthis project and many of the basic tracks were created using Acid Pro and Groove Maker Software. Didgeridoos, flutes, keyboards, wind synthesizers, electronic and acoustic percussion were all played by David Blonski.
Personal note from David about Into the Night, Music for the Road….
This entire project is a tribute to the many hours that I have spent behind the wheel traveling from one festival to another and most specifically it relates to my many drives across the desert to Joshua Tree, Las Vegas, Phoenix and Tucson. I have spent hundreds of hours on the road listening to these songs in their various forms as I have worked on them and I found them very effective for keeping me awake with my toes tapping on those late night drives across the desert. I have driven 10 hours straight listening to this one album without getting tired of the music so now that it is released it gets my highest recommendation for traveling music.
"Into the Night" represents a new genre of music for me that I will, for the time being, call 'Tribal House'…. a mix of dance type grooves combined with the worldly voices of didgeridoo, world percussion and exotic flutes from around the world and for the first time ever I have produced two vocal tracks… "Must be Dreaming" and "Into the Night I Roam". I hope that you will enjoy this recording and share in my excitement.
To obtain a sync license of any of the songs on Into the Night, Music for the road contact David Blonski by email or by calling 530-333-1335
Timeless Store

Items in Your Cart

Your cart is empty

QUANTITY DISCOUNT

When you order more than one item we are offering an additional 15% off of our already discounted "Direct From Artist Pricing". Your discount will show up automatically in the cart above (up to 57.5% off). FREE SHIPPING on all orders within the USA! Digital Downloads are recommended for anyone outside the USA.

About Your Order

For US orders, CD's are typically sent out within 48 hours by Media Mail unless David is on tour which can delay shipping a few days up to a couple weeks. We recommend Digital Downloads for those of you outside the USA. If you need international shipping please contact us.

If you order a 'Full Album Digital Download' you will typically recieve an email within 15 minutes with the encrypted link(s) for your download(s) that will include high quality MP3s of each song and jpegs of all the artwork that comes with the original CD.

Contact Us

Timeless Productions
5050 Traverse Creek Rd,
Garden Valley, Ca 95633
phone: 530-333-1335 4info@timelessproductions.com