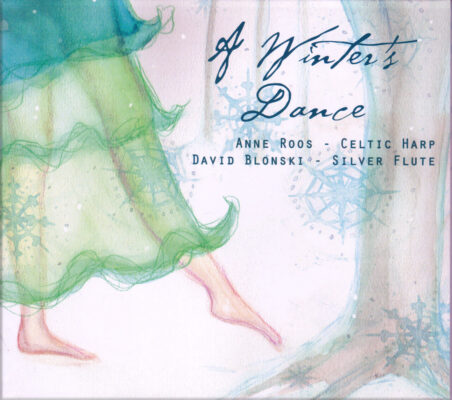 A WINTER'S DANCE by David Blonski & Anne Roos.
After three years of work before and during a pandemic, David is announcing the release of his brand new recording with award-winning harpist Anne Roos!
"A Winter's Dance" features Anne and David's harp and flute playing with new age arrangements of old world folk melodies. Relish the playful dancing between Anne's Celtic harp and David's silver flute in traditional tunes that echo the spirit of the fall, winter, and holidays. Joyfully enter another place and time, dance with the snowflakes, and immerse yourself in these delightful instrumentals!
The official launch date is August 19, 2022. Can't wait to get your copy of This new music?.. this album is now available as a pre-release autographed CD. The album is perfect to play anytime of the year, even on hot summer days when you're longing for a cool musical breeze!
More info and audio samples will be uploaded soon.
Timeless Store

Items in Your Cart

Your cart is empty

QUANTITY DISCOUNT

When you order more than one item we are offering an additional 15% off of our already discounted "Direct From Artist Pricing". Your discount will show up automatically in the cart above (up to 57.5% off). FREE SHIPPING on all orders within the USA! Digital Downloads are recommended for anyone outside the USA.

About Your Order

For US orders, CD's are typically sent out within 48 hours by Media Mail unless David is on tour which can delay shipping a few days up to a couple weeks. We recommend Digital Downloads for those of you outside the USA. If you need international shipping please contact us.

If you order a 'Full Album Digital Download' you will typically recieve an email within 15 minutes with the encrypted link(s) for your download(s) that will include high quality MP3s of each song and jpegs of all the artwork that comes with the original CD.

Contact Us

Timeless Productions
5050 Traverse Creek Rd,
Garden Valley, Ca 95633
phone: 530-333-1335 4info@timelessproductions.com