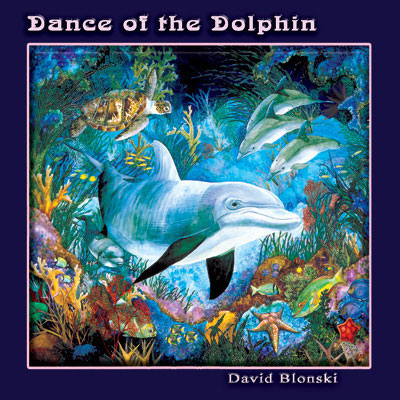 This delightful recording explores the many moods of the dolphin's watery home, The Sea. Visit lonely windswept beaches as you listen to the sounds of the surf, shorebirds and whale songs from the deep accompanied by the exquisite instrumental music of David Blonski. David's gentle flute will carry you away as we chase after schools of Dolphins while leaning over the rail of a sailing sloop and listening as the ocean playfully dances upon the hull.
Listen to short audio samples below….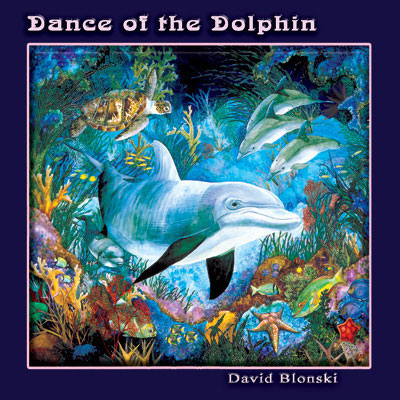 Dance of the Dolphin - CD
Artist Direct Discount with Free Shipping within USA Included!
International shipping available with additional fee. Contact us before ordering.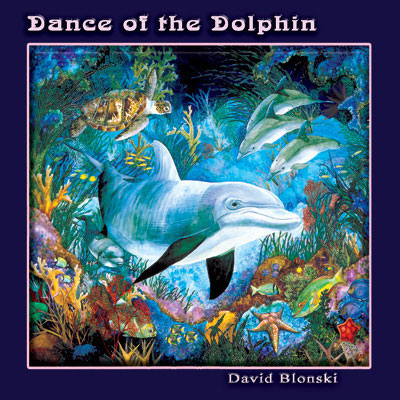 Dance of the Dolphin - full digital download
Includes high quality MP3s of each song along with all the cover art and liner notes included in the CD package. Your download link will be delivered by email.
The Marching Tides – 6:48
Distant Shores – 9:21
Waters Edge – 8:12
Dance of the Dolphin – 5:02
Song from the Deep – 7:43
Daybreak – 7:36
Full Sails – 4:51
All music composed, arranged and performed by
David Blonski
on….
Flute, dulcimer, percussion, Synclavier II Synthesizer and Sampling System,
Yamaha DX7 and RX 15, Casio CZ 101
Recorded and Engineered by David Blonski & Peter Spoecker at Shining Lotus Studio Joshua Tree, CA
Cover art: Sea Fantasies by June Payne Hart
Graphic Layout: David Blonski / Timeless Productions
Copyright 1986 David Blonski / Timeless Productions
Jump up my friends
Throw your bodies high
Fall back to a wet embrace
to jump again
Higher, faster, further
Sing for living
Dance on my friend
Dream of fishes and chases
Of deep sea caverns
Dance on my friends
Dance upon the waters
John Ballou
Timeless Store

Items in Your Cart

Your cart is empty

QUANTITY DISCOUNT

When you order more than one item we are offering an additional 15% off of our already discounted "Direct From Artist Pricing". Your discount will show up automatically in the cart above (up to 40% off). FREE SHIPPING on all orders within the USA! Digital Downloads are recommended for anyone outside the USA.

About Your Order

For US orders, CD's are typically sent out within 48 hours by First Class Mail or Media Mail on larger orders unless David is on tour which can delay shipping a few days up to a couple weeks. We recommend Digital Downloads for those of you outside the USA. If you need international shipping please contact us.

If you order a 'Full Album Digital Download' you will typically recieve an email within 15 minutes with the encrypted link(s) for your download(s) that will include high quality MP3s of each song and jpegs of all the artwork that comes with the original CD.

Contact Us

Timeless Productions
5050 Traverse Creek Rd,
Garden Valley, Ca 95633
phone: 530-333-1335 4info@timelessproductions.com

ORDER LINE: 1-800-729-1325