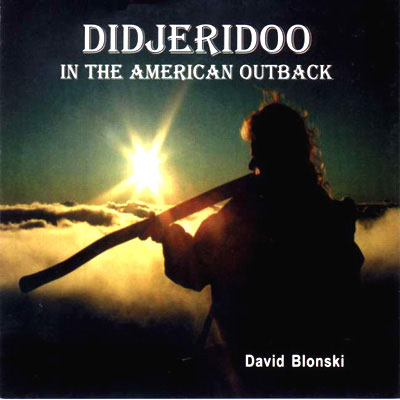 A refreshing new look at one of the oldest and most primitive instruments known to man. David's unique approach to this instrument honors its aboriginal roots by using the land and animals of the "new world" to inspire this collection of Didjeridoo recordings. David's evocative and contemporary style adds a percussive element to his didjeridoo playing that helps bring this 40,000 year old instrument into the modern world while still maintaining its primal roots…. 60 minutes
Reviews
… expresses the musicality of the didgeridoo to its pinnacle in this recording … creates a vision of new adventure and discovery. —CONCEPTS
creates an experience of the Didgeridoo that is accessible to the uninitiated while staying true to its Aboriginal roots. —Leading Edge Review
places a nice interpretation of the old, new and unexpected side by side for a sweet adult alternative release… —Midwest Record Recap
Listen to short audio samples below…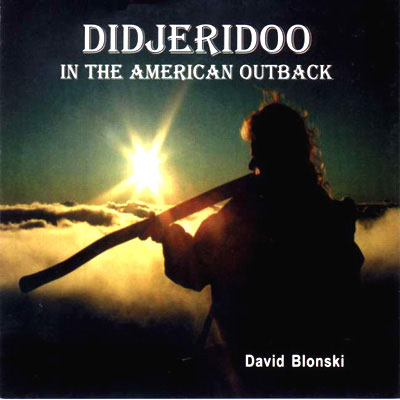 Didjeridoo in the American Outback - CD
Artist Direct Discount with Free Shipping within USA Included!
International shipping available with additional fee. Contact us before ordering.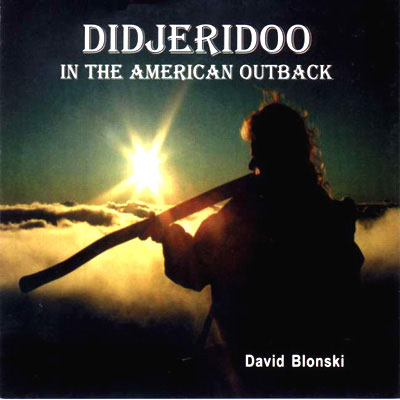 Didjeridoo in the American Outback - full digital download
Includes high quality MP3s of each song along with all the cover art and liner notes included in the CD package. Your download link will be delivered by email.
Haleakala Sunrise
Walk in the Garden
Forest Mists
Conversations
Hummer-doos
Grizzly
Anazazi
Run with the Pack
Gathering Storm
Tribal Rhythm
Into the Night
Evening at the Pond
Sky World
New Horizons
All music composed, performed and produced by
David A. Blonski
Didjeridoo, Flutes, Bamboo Sax, Vocals, Percussion, Keyboards
2nd Didgeridoo performed by Peter Spoecker
Additional Vocals – Sharon Gardner & Peter Spoecker
Graphic Design and Layout: David Blonski
Cover Photos: Nina Blonski Petroglyph Photo: Karen Jackson
Timeless Store

Items in Your Cart

Your cart is empty

QUANTITY DISCOUNT

When you order more than one item we are offering an additional 15% off of our already discounted "Direct From Artist Pricing". Your discount will show up automatically in the cart above (up to 57.5% off). FREE SHIPPING on all orders within the USA! Digital Downloads are recommended for anyone outside the USA.

About Your Order

For US orders, CD's are typically sent out within 48 hours by Media Mail unless David is on tour which can delay shipping a few days up to a couple weeks. We recommend Digital Downloads for those of you outside the USA. If you need international shipping please contact us.

If you order a 'Full Album Digital Download' you will typically recieve an email within 15 minutes with the encrypted link(s) for your download(s) that will include high quality MP3s of each song and jpegs of all the artwork that comes with the original CD.

Contact Us

Timeless Productions
5050 Traverse Creek Rd,
Garden Valley, Ca 95633
phone: 530-333-1335 4info@timelessproductions.com