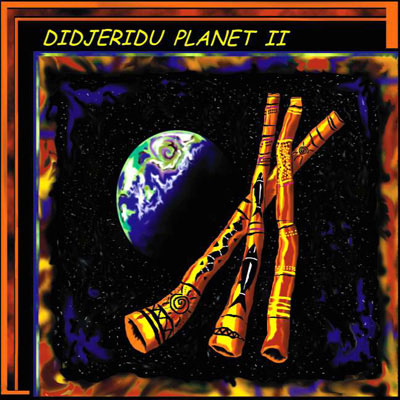 An impressive anthology of 30 contemporary didgeridoo recordings performed by musicians from around the globe. Featuring diverse compositions ranging from primal didgeridoo solos to techon-didge dance grooves. It's an absolute must for anyone interested in a world view of this ancient and primal instrument.
Listen to short audio samples below…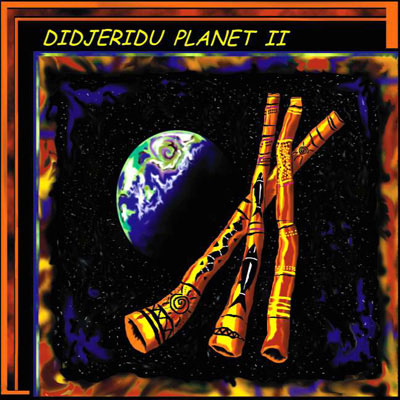 Didjeridu Planet 2 - CD Compilation
Artist Direct Discount with Free Shipping within USA Included!
International shipping available with additional fee. Contact us before ordering.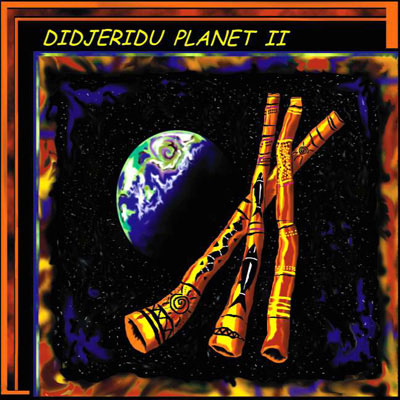 Didjeridu Planet 2 - full digital download
Includes high quality MP3s of each song along with all the cover art and liner notes included in the CD package. Your download link will be delivered by email.
Well of the World – Rick Dusek, USA
MoketKommer / Vinden Hyler II – Lars Grue / Bernt Balchen, NOR
Trance Around the Fire – Dave Crowder, USA
Sunrise – Peter Watkins, AUS
Duet in D – Rainer Malinowski / Ed Drury, USA
War & Piece – Guilherme Barros, BRA
El Nino – Rob Hughes, CAN
Cosmic Soup – Guan Lim, AUS
Sea & Sky – Rasta Robert, NLD
Sky Sailing – Charles Koeppen, USA
The Capriole – Sven Wesenlund, NOR
Cabbage Patchin – Karl Kalbaugh, USA
Whowahwah – Marko Johnson, USA
Funkwheelin – Doug Moser, USA
Didgezilla – David Blonski, USA
Intripineur – John Arntz, USA
Deepio Tu – Randy Graves, USA
In the Hollow – John Pascuzzi, USA
From the Heart of the Beast, Karl Sacksteader, USA
Squail – Jawhidge / Ed Drury, USA
Saurian Shuffle – Clay Garett, USA
Kurunba – John Madill, USA
Dance on the Dunes – John Morfit, USA
Starting from Cold – Brandi Chase, USA
Wallaby Hop – Michael Savasito, USA
The Mimic – Scott Gardner, AUS
Disco Didge – Tim Whittemore, USA
Definitely Didgeridoo – Peter Spoeker, USA
OhhNunnEee – Ted Walkin, USA
Feel the Joy – Allen Smith, USA
Edited, compiled and produced by David Blonski for the infamous "Didjeridu List"…
an internet mail group created to provide a forum for the exchange of ideas,
dissemination of information and general discussion of the Didgeridoo and related topics.
Timeless Store

Items in Your Cart

Your cart is empty

QUANTITY DISCOUNT

When you order more than one item we are offering an additional 15% off of our already discounted "Direct From Artist Pricing". Your discount will show up automatically in the cart above (up to 57.5% off). FREE SHIPPING on all orders within the USA! Digital Downloads are recommended for anyone outside the USA.

About Your Order

For US orders, CD's are typically sent out within 48 hours by Media Mail unless David is on tour which can delay shipping a few days up to a couple weeks. We recommend Digital Downloads for those of you outside the USA. If you need international shipping please contact us.

If you order a 'Full Album Digital Download' you will typically recieve an email within 15 minutes with the encrypted link(s) for your download(s) that will include high quality MP3s of each song and jpegs of all the artwork that comes with the original CD.

Contact Us

Timeless Productions
5050 Traverse Creek Rd,
Garden Valley, Ca 95633
phone: 530-333-1335 4info@timelessproductions.com