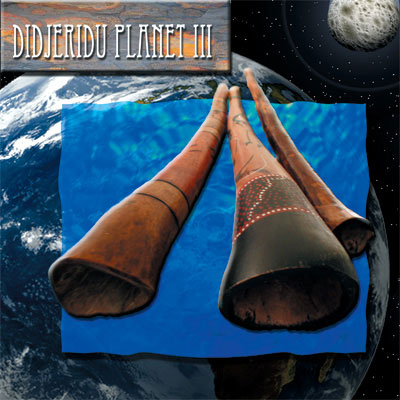 An extraordinary collection of 31 contemporary didjeridu recordings performed by musicians from around the globe. Evocative, tribal, and rhythmic, it's an absolute must for anyone interested in a world view of this ancient and primal instrument. 74 minutes in length.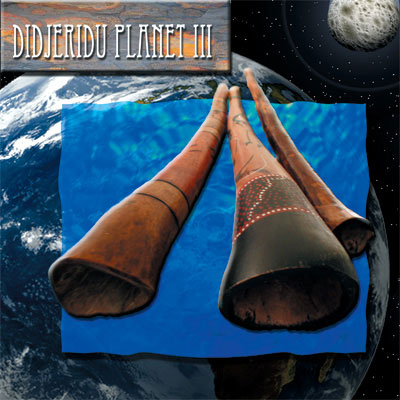 Diderdiu Planet 3 - CD
Artist Direct Discount with Free Shipping within USA Included!
International shipping available with additional fee. Contact us before ordering.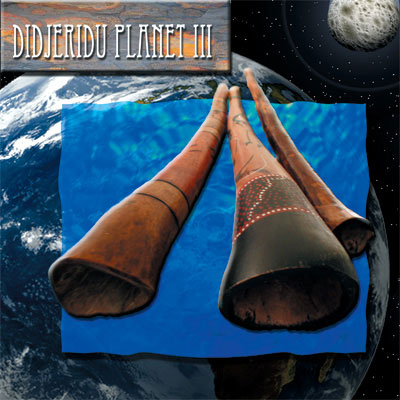 Diderdiu Planet 3 - full digital download
Includes high quality MP3s of each song along with all the cover art and liner notes included in the CD package. Your download link will be delivered by email.
"The 'Didjeridu Planet' series of recordings represents a worldwide wellspring of creativity that has sprung up around one of our planet's most ancient instruments, the Aboriginal Didjeridu of Australia. This third installment is an incredible fusion of primitive and contemporary musical forms that takes the listener on an amazing journey."
David Blonski – Producer
1 Thud….. Guy Brown
2 Restless Sky….. Bush Giants, Ianto Thurber
3 Didge Jam….. Gary Cannell
4 Yin Yang….. Dave Crowder
5 Windblown….. John Davis
6 Kirra's Run….. Rick Dusek, Daniel Hamilton
7 Bareback….. Dominic Gaudious
8 Thunder…..Andy Graham
9 US Clay….. Barry Hall
10 E-Funk….. Ian Hesford
11 Get To It….. Ben Hicks
12 Holfuf….. Joel Hinkle
13 Hitchhiker Flies….. Daryn Jaya
14 Monster….. Tomasz Jurecki
15 Tribe….. Land of the Blind, Krystov
16 Bordertown….. Andrew Langford
17 Adronalin….. Keith Leaman
18 The Red Stuff….. Tim Lee
19 Pasos de Gigantes….. John Madill
20 The Scandanavian Set….. The Bringers, Byron Miller
21 Dark Moon….. Tommy Michael
22 Echoes….. Samuel Mourot
23 Flight of the Hawks….. Pangaea, David Blonski
24 Funk in the Trunk….. John Pascuzzi
25 Didge Madness….. Martin Schiff
26 Au Nord du Nord….. Mathieu Simard, Pierre Chartier
27 Baraka….. Alan Tower, Calvin Lai
28 Reboot….. Peter Van Gorder
29 Hardedidje….. Anton Woldhek
30 Rock Hill….. Thomas Workman
31 BC Boogie….. Walt Young
Music compiled and mastered by David Blonski with help from John Madill….
Cover Art for CD booklet by Robert Evans…. Traycard art by Kenneth Woodruff…..
CD art by Lucy Hughes…. Layout and graphic design by David Blonski.
Special Thanks to Karl Kalbaugh who started the Didjeridu Planet series and
Toyoji Tomita, the keeper of "The Didjeridu List".
Timeless Store

Items in Your Cart

Your cart is empty

QUANTITY DISCOUNT

When you order more than one item we are offering an additional 15% off of our already discounted "Direct From Artist Pricing". Your discount will show up automatically in the cart above (up to 57.5% off). FREE SHIPPING on all orders within the USA! Digital Downloads are recommended for anyone outside the USA.

About Your Order

For US orders, CD's are typically sent out within 48 hours by Media Mail unless David is on tour which can delay shipping a few days up to a couple weeks. We recommend Digital Downloads for those of you outside the USA. If you need international shipping please contact us.

If you order a 'Full Album Digital Download' you will typically recieve an email within 15 minutes with the encrypted link(s) for your download(s) that will include high quality MP3s of each song and jpegs of all the artwork that comes with the original CD.

Contact Us

Timeless Productions
5050 Traverse Creek Rd,
Garden Valley, Ca 95633
phone: 530-333-1335 4info@timelessproductions.com