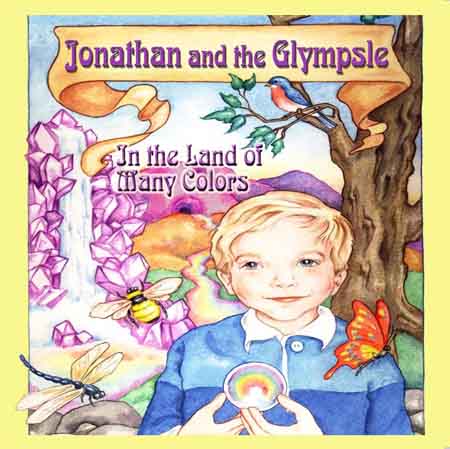 Destined to be a "classic", this children's story is a heartwarming tale about a boy and his imaginary friend and their adventures together through the magical world of nature. During his journey, Jonathan meets a cast of characters as rich and varied as the colors of the rainbow. The enchanting musical score and charming songs help to make this a delightful tale for children of all ages. Running time: 60 minutes
Listen to short audio samples below…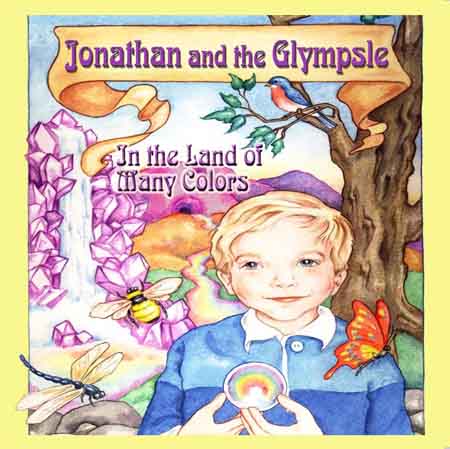 Johnathan and the Glympsle - CD
Artist Direct Discount with Free Shipping within USA Included!
International shipping available with additional fee. Contact us before ordering.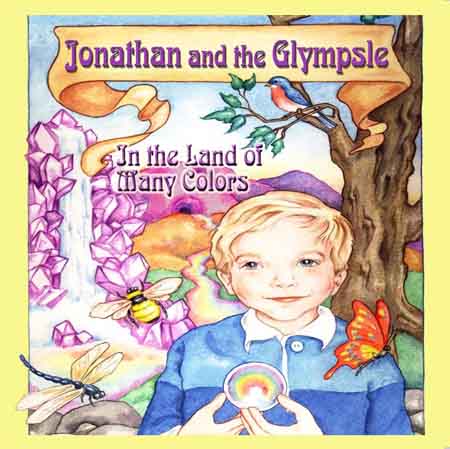 Johnathan and the Glympsle - full digital download
Includes high quality MP3s of each song along with all the cover art and liner notes included in the CD package. Your download link will be delivered by email.
Introduction to the Story
Good Morning Song
Red Ant Song
Butterfly Blues
Perfect Miracle
The Story: As the morning sun shines through a crystal hanging in Jonathan's bedroom window it is transformed into little bursts of rainbow colors that dance about the room. As they pass across his eyelids he awakens to a day of extraordinary adventures beginning with his encounter with the Glympsle, an impish little character that one can only see out of a corner of an eye. Jonathan is then is then introduced to a magical side of the world of nature when the Glympsle helps Jonathan to use his imagination to transform himself into a tree, a red ant and a vast array of other colorful creatures. As he sets out on this remarkable journey he meets a cast of unusual characters including a dizzy and emotional butterfly, a pompous bee, a sorrowful caterpillar, a happy go lucky bluebird, a dreamy dragonfly, and of course there's the wise old owl to help shed light on the lessons to be learned from this fanciful tale. Together with the delightful musical score and unforgettable songs, this story is sure to tug at your heartstrings.
Story written by: David and Nina Blonski, Jeani Duncan and John Funk
Original Concept by Jeani Duncan
Musical score by David Blonski
Recorded, engineered, mastered and produced by David Blonski
CAST
Casey Blonski as Jonathan,
David Blonski as the Red Ant, the Bee, the Dragonfly and the Caterpillar
Nina Blonski as Jonathan's Mother, and the Bluebird
Jeani Duncan as the Glympsle, the Butterfly and the Narrator
Christopher Duncan as the Owl
SONGS
Good Morning song – written and performed by David Blonski
The Tree Song – Written by David Blonski and John Funk and sung by Jeani Duncan
The Butterfly Blues – written and performed by Jeani Duncan
The Red Ant Song – lyrics by Jeani Duncan sung by David Blonski
Perfect Miracle – written by Sammy Whitecap sung by Casey Blonski
You Can Share Anything – written by Jeani Duncan and sung by entire cast
Perfect Miracle – sung by the entire cast
Timeless Store

Items in Your Cart

Your cart is empty

QUANTITY DISCOUNT

When you order more than one item we are offering an additional 15% off of our already discounted "Direct From Artist Pricing". Your discount will show up automatically in the cart above (up to 57.5% off). FREE SHIPPING on all orders within the USA! Digital Downloads are recommended for anyone outside the USA.

About Your Order

For US orders, CD's are typically sent out within 48 hours by Media Mail unless David is on tour which can delay shipping a few days up to a couple weeks. We recommend Digital Downloads for those of you outside the USA. If you need international shipping please contact us.

If you order a 'Full Album Digital Download' you will typically recieve an email within 15 minutes with the encrypted link(s) for your download(s) that will include high quality MP3s of each song and jpegs of all the artwork that comes with the original CD.

Contact Us

Timeless Productions
5050 Traverse Creek Rd,
Garden Valley, Ca 95633
phone: 530-333-1335 4info@timelessproductions.com