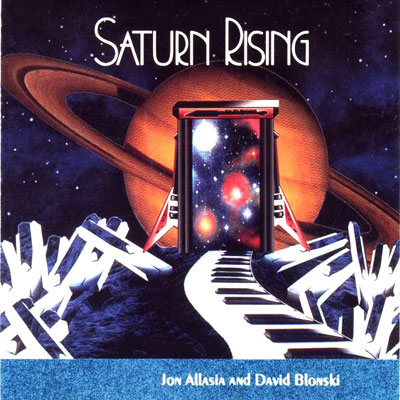 David Blonski and Jon Allasia come together again to create a magnificent recording of Electronic Space Music at its very best. This sonic journey transports you into the realms of deep space, where time and matter are but an element of thought. In this realm, thought can travel faster than the speed of light and time has little or no meaning. Here we can explore the cosmos or search our own inner depths which are as vast and limitless as the universe itself. It is the exploration of our inner universe that holds the key to our successes, happiness, sense of well being and inner peace. We invite all our friends who listen to this music to sit back, relax, close your eyes and experience whatever the mind & spirit has to offer. It is unlikely that you will be disappointed with time well spent.
Listen to short audio samples below….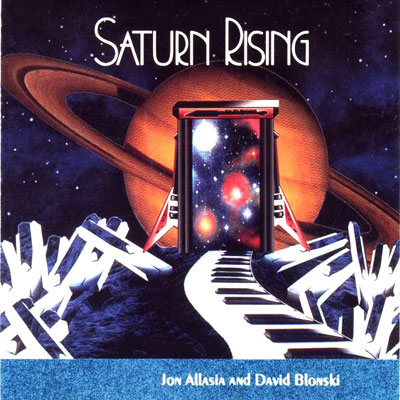 Saturn Rising - CD
Artist Direct Discount with Free Shipping within USA Included!
International shipping available with additional fee. Contact us before ordering.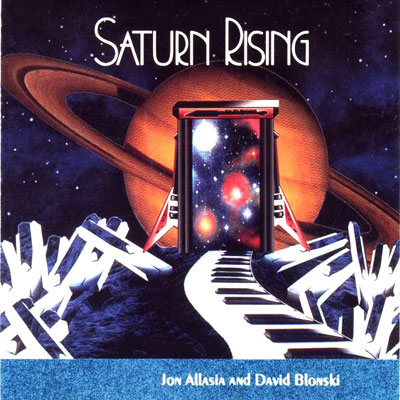 Saturn Rising - full digital download
Includes high quality MP3s of each song along with all the cover art and liner notes included in the CD package. Your download link will be delivered by email.
Twilight – 3:53
Stardust – 1:50
The Dreaming – "Among the Stars" – 6:04
Solar Winds – 9:42
The Dreaming II – "Vision" – 4:28
When Angels Touch – 5:06
Sojourn – 3:28
Saturn Rising – 6:28
Beyond the Outer Rings – 3:26
Voyager – 4:38
Moons of Saturn – 6:02
New Frontiers – 6:04
All music composed, arranged and performed by
David A. Blonski & Jon Allasia
Wind Synthesizer Guitar Synthesizer
Keyboards Keyboards
Keyboards and sound modules used: EMU Proteus/1xr,
Korg 01/WFD, M3R, and DW-8000, Kawai K1r, Casio FZ-1
Yamaha DX7IIFD and TX81Z with WX& Wind Controller
Casio PG-380 Guitar Synthesizer
Lyricon on "Vision" by Dallas Smith of the Mazer and Smith Duo
Cover art: Sharon Lizerbram
Graphic Layout: David Blonski / Timeless Productions
Timeless Store

Items in Your Cart

Your cart is empty

QUANTITY DISCOUNT

When you order more than one item we are offering an additional 15% off of our already discounted "Direct From Artist Pricing". Your discount will show up automatically in the cart above (up to 57.5% off). FREE SHIPPING on all orders within the USA! Digital Downloads are recommended for anyone outside the USA.

About Your Order

For US orders, CD's are typically sent out within 48 hours by Media Mail unless David is on tour which can delay shipping a few days up to a couple weeks. We recommend Digital Downloads for those of you outside the USA. If you need international shipping please contact us.

If you order a 'Full Album Digital Download' you will typically recieve an email within 15 minutes with the encrypted link(s) for your download(s) that will include high quality MP3s of each song and jpegs of all the artwork that comes with the original CD.

Contact Us

Timeless Productions
5050 Traverse Creek Rd,
Garden Valley, Ca 95633
phone: 530-333-1335 4info@timelessproductions.com