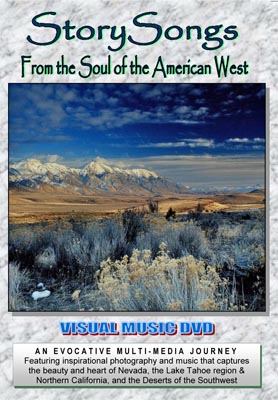 An evocative multi-media journey featuring inspirational photography and music that captures the beauty and heart of Nevada, the Lake Tahoe & Northern California region and the Deserts of the Southwest that also includes 40 minutes of special features.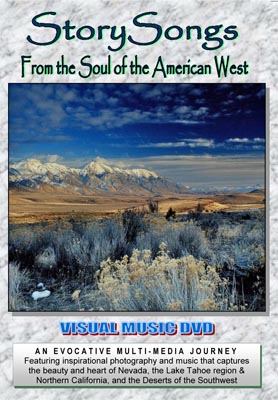 StorySongs / From the Soul of the West - DVD
Artist Direct Discount with Free Shipping within USA Included!
International shipping available with additional fee. Contact us before ordering.
Features the award winning works of outdoor photographer Mark Vollmer and Singer/Songwriter Jim Eaglesmith.
"A delightful and soothing musical and visual experience for the quietude of the soul." – Martina Young, PhD
"incredible beauty on this DVD" – Joseph Galata, Arts in Education Specialist
"A beautiful and heartfelt celebration of nature's beauty. Truly enjoyable" – Brian Beffort, Associate Director of Friends of the Nevada Wilderness
Featuring the songs….
"Spirit of the Rock"
"Desert Homeland"
"Mountain, River, Lake"
"Forest Folks"
"Little Ones"
"I'm Coming Home"
"WaterDance"
Timeless Store

Items in Your Cart

Your cart is empty

QUANTITY DISCOUNT

When you order more than one item we are offering an additional 15% off of our already discounted "Direct From Artist Pricing". Your discount will show up automatically in the cart above (up to 57.5% off). FREE SHIPPING on all orders within the USA! Digital Downloads are recommended for anyone outside the USA.

About Your Order

For US orders, CD's are typically sent out within 48 hours by Media Mail unless David is on tour which can delay shipping a few days up to a couple weeks. We recommend Digital Downloads for those of you outside the USA. If you need international shipping please contact us.

If you order a 'Full Album Digital Download' you will typically recieve an email within 15 minutes with the encrypted link(s) for your download(s) that will include high quality MP3s of each song and jpegs of all the artwork that comes with the original CD.

Contact Us

Timeless Productions
5050 Traverse Creek Rd,
Garden Valley, Ca 95633
phone: 530-333-1335 4info@timelessproductions.com