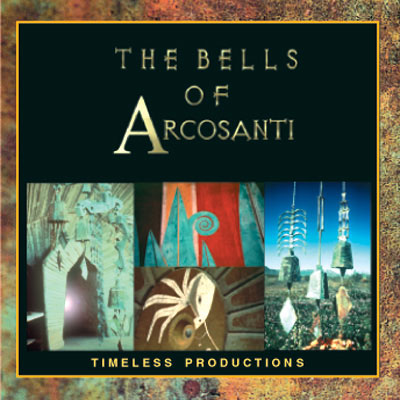 A hauntingly beautiful and meditative musical journey to Arcosanti featuring the magical sounds of the Soleri Bronze Bells accented by Bamboo bass flute, silver flute, hammered dulcimer, guitar, bamboo sax, didgeridoo and the unique ambient atmospherics of Arcosanti.
Listen to short audio samples below…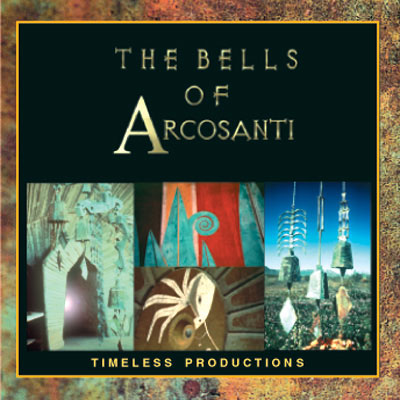 The Bells of Arcosanti - CD
Artist Direct Discount with Free Shipping within USA Included!
International shipping available with additional fee. Contact us before ordering.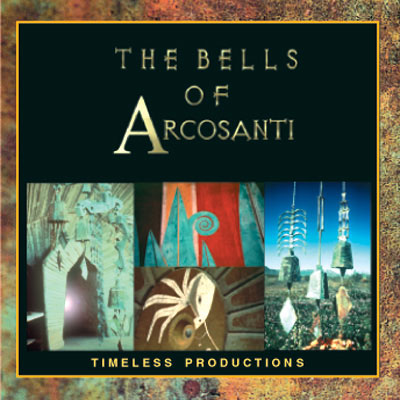 The Bells of Arcosanti - full digital download
Includes high quality MP3s of each song along with all the cover art and liner notes included in the CD package. Your download link will be delivered by email.
Produced and Composed by
David Blonski and Daryl Simmons
Daryl Simmons – Bell Percussion, Vocals & Architectural Atmospherics
David Blonski – Bamboo Flute and Sax, Silver Flute, Didjeridu, Wind Chimes
Kate Price – Hammer Dulcimer, Vocals / Rob Simmons – Electric & Acoustic Guitar
Graphic Design – Rob Simmons
copyright 1998 David Blonski / Timeless Productions
Album Notes…
Recorded in part at the legendary architectural and ecological habitat of
Arcosanti,
designed by visionary artist and architect, Palo Soleri. Featuring the magical overtones of the
Soleri Bronze Bells
.
"One of our picks for the year's most serene CDs." – New Age Journal
PURE MAGIC – From the first few moments, with the pure metallic tones of bells large and small, and earthy sounds of bamboo flute, you know you're hearing something special. This recording was made within and around the ecological/architectural site of Arcosanti in the Arizona Desert, described by the producers as "Architecture that sings with spirit".
Within the vaulted domes and spacious curves of Arcosanti's structures, the site itself became the recording studio for this collection of meditative compositions, capturing the magical harmonics and overtones of bronze bells that hang everywhere. While some ring ambiently others are played percussively, then blended with a variety of instruments: Japanese bass flute, bamboo saxophone, acoustic guitar, didjeridoo, silver flute, hammered dulcimer, and a special appearance by Celtic vocalist Kate Price.
The rich harmonics of bronze bells evoke a natural relaxation response, and create and ideal ambience for meditation, massage, yoga, tai chi and journeying.
THE CRITICS HAVE SAID:
Hauntingly beautiful and meditative. This music will transport you into the acoustic spaces of your inner being, and resonate deeply within your soul." – Leading Edge Review
"Taking the Paul Winter concept of music, natural spaces and nature to a new place, this spellbinding CD is a must… a sweet set." – Midwest Record Recap
"An incredible and deeply moving album,… true soul music" – Concepts
"There is a harmony and balance that resonates with inner peace, weaving its way through each composition. The Music is soothing, calm, and naturally introspective". -Awareness Magazine
"The mood it conveys is of sound coming from a remote, sunlit, otherworldly place, like the un-ruined remains of an ancient temple out in a silent desert space". – Wind and Wire
Timeless Store

Items in Your Cart

Your cart is empty

QUANTITY DISCOUNT

When you order more than one item we are offering an additional 15% off of our already discounted "Direct From Artist Pricing". Your discount will show up automatically in the cart above (up to 57.5% off). FREE SHIPPING on all orders within the USA! Digital Downloads are recommended for anyone outside the USA.

About Your Order

For US orders, CD's are typically sent out within 48 hours by Media Mail unless David is on tour which can delay shipping a few days up to a couple weeks. We recommend Digital Downloads for those of you outside the USA. If you need international shipping please contact us.

If you order a 'Full Album Digital Download' you will typically recieve an email within 15 minutes with the encrypted link(s) for your download(s) that will include high quality MP3s of each song and jpegs of all the artwork that comes with the original CD.

Contact Us

Timeless Productions
5050 Traverse Creek Rd,
Garden Valley, Ca 95633
phone: 530-333-1335 4info@timelessproductions.com